Start your career & pursue your passion
UNIVERSITY OF ASIA PACIFIC
IS AMONGST THE TOP 2 PRIVATE
UNIVERSITIES OF BANGLADESH IN
SCIMAGO INSTITUTION RANKING, 2022
The study of law will take you to the centre of many of today's great social and political issues. Law is not something abstract or remote, it is the way that society, through institutions like Parliament, the courts, and administrative tribunals of many kinds, lays down its rules. Lawyers must be able to understand how the law is made and applied, and how it relates to the daily life of the community and the needs of individuals.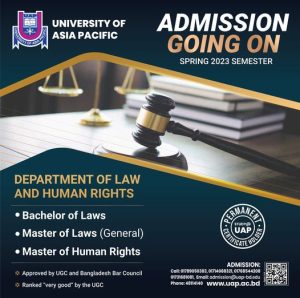 Admission
Admission for LLB (Honours), LLM (General) & Master of Human Rights Programs, Spring-2023 are going on. 
Read More »
The UAP permanent campus at Green road has a large front plaza for approximately 6000 square foot and a backyard (backyard has two parts, one semi-covered and the other open to sky) of slightly smaller size. There is also a central common plaza space of 3300 square foot floor area which is actually an atrium space with a majestic eighty foot high translucent roof to bring in light from outside.
LLB (Honours) Program Tuition Costs, Spring 2023
LLM (General) Program Tuition Costs, Spring 2023
Master of Human Rights Program Tuition Costs, Spring 2023
Our students create a vibrant and inclusive community
Are you ready to take the next step toward your future career?