Message from the Head of Department
Assistant Professor & Head of the Department
Department of Law & Human Rights
University of Asia Pacific (UAP)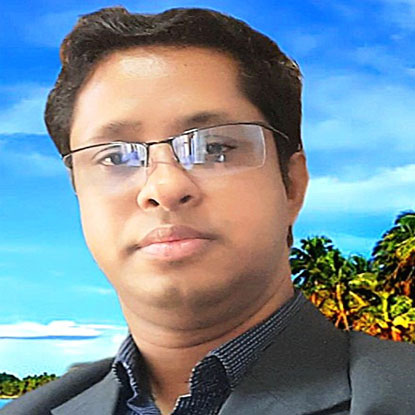 The Department of Law and Human Rights at the University of Asia Pacific began its journey in 2005 and since then, it has become one of the best law departments among both public and private universities in Bangladesh. Being the newest Department in one of the oldest private universities in Bangladesh, the Department of Law and Human Rights has strived to ensure quality legal education among its students.
The Department currently has one LLB(Hons) program and two LLM programs. Moreover, one of the current LLM programs, known as the UMSAILS LLM program is conducted in partnership with UNESCO Madanjeet Singh South Asian Institute of Advanced Legal and Human Rights Studies (UMSAILS). This is the only international LLM program among both private and public universities in Bangladesh. Moreover, the Department has been rated as "very good" by the External Peer Review Team (EPRT) of the University Grants Commission(UGC).
In terms of research, the Department regularly organizes workshops, seminars and law lecture series with eminent jurists. The faculty of the Department publishes regularly, and the Department journal known as the University of Asia Pacific Journal of Law and Policy (UAPJLP) is one of the best peer-reviewed law journals in the country. The UAPJLP has recently applied for indexing the journal in SCOPUS.
The Department of Law and Human Rights also boasts of alumni's working in different legal fields in all over Bangladesh and recently one of the graduates have been selected as an Assistant Judge in the lower judiciary of the country. Further, some of the faculty members teaching in the Department are eminent jurists and academics known both in Bangladesh and abroad. From this semester(Fall 2020-2021), we have a visiting faculty from the School of Oriental and African Studies (SOAS) under the University of London, teaching one of our LLM courses.
If you are looking for a law department working hard to provide the students with both academic and practical knowledge, prepare them for the life after education, hone their interpersonal and analytical skills and help them excel in their extra-curricular activities, then the Department of Law and Human Rights is the place for you.
I welcome you to the Department of Law and Human Rights to start the wonderful journey in fulfilling your potential!