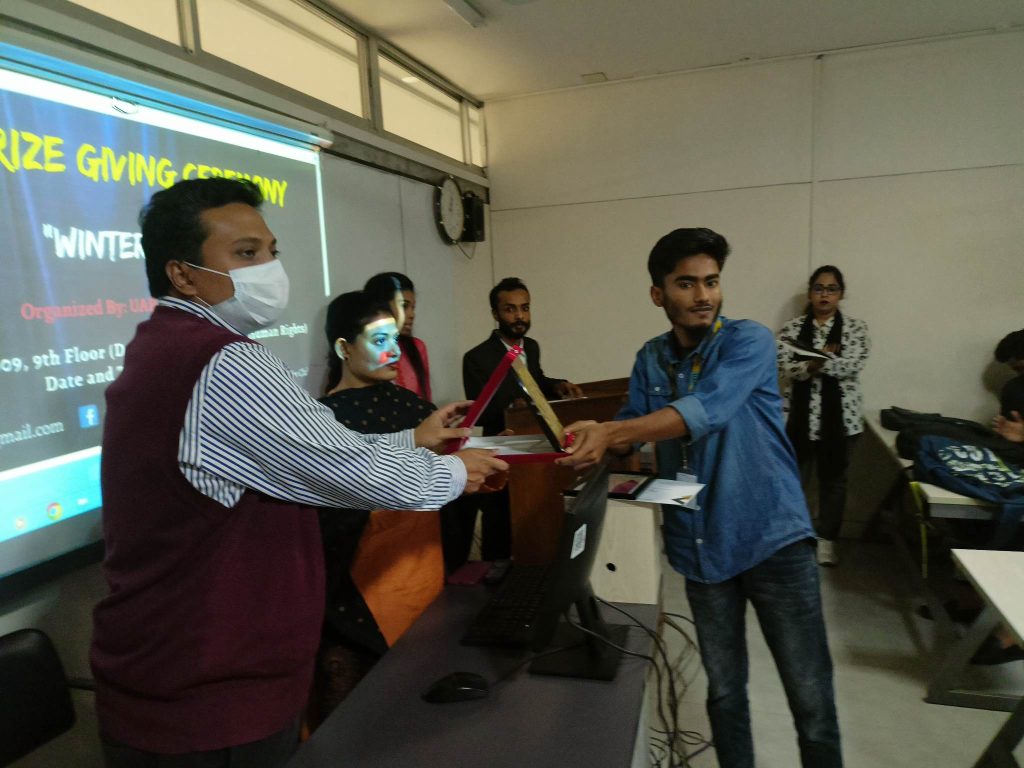 With immense pride and honor, the UAP Law Photography Club concluded the Prize Giving Ceremony of the "Winter-Marathon Inter-Semester Photo Exhibition 2023" this Wednesday at the University of Asia Pacific.
The UAP Law Photography Club (UAPLPC) started a photo collection in the UAP Law Photography Club Facebook group on 06 February to 12 February 2023 for the Inter-Semester Photography Exhibition 2023, just like it does every semester, during which the Prize Giving Ceremony is held on the 16th of February. Before that, the club started collecting photographs of the UAP students from 06 February to 12 February.
This time, the club received more than 100 photographs in total from the semester of department of law and human rights. Of those, the top 09 photos were displayed in the exhibition and were certificated.
Among all the contestants, Md. Tarek Hossain stood first, Md. Nafiz Iqbal stood second, and Malika Kausar Kangkon stood third.  Razwan Ahamed , Ibrahim Khalil, Hasibul Hasan Emon, Ishrat Jahan Alice, Reazul Hasan, Ibnul Hasan are the top 09 contestants.
At the Prize Giving Ceremony, the Chief Guest was Dr. Chowdhury Ishrak Ahmed Siddiky, Head of Department, Department of Law and Human Rights, UAP, and Deputy Director, SAILS. He expressed his gratitude to the UAPLPC for putting up such a wonderful program, and he thanked them as well. He encouraged the students, and at the conclusion of his speech, he revealed the identity of the participant, who was taken aback. He added that photography is an art form, and students with an interest in photography may study it. He continued by stating that this organisation is one of the most active not just in the law department, but also across the university. Dr. Ishrak said he was impressed with the club's work and that he thought one of the club's members would one day be a photographer for the UAPLPC.
Nazia Wahab, Assistant Professor, Department of Law and Human Rights, University of Asia Pacific, Convener, UAPLPC was present at the awarding event. She congratulated each student on their choice to join the club. According to Ms. Wahab, developing one's soft skills is necessary to increase one's competency.
Ms Wahab delivered her concluding remarks at the end of the session and praised all of the students for their participation.