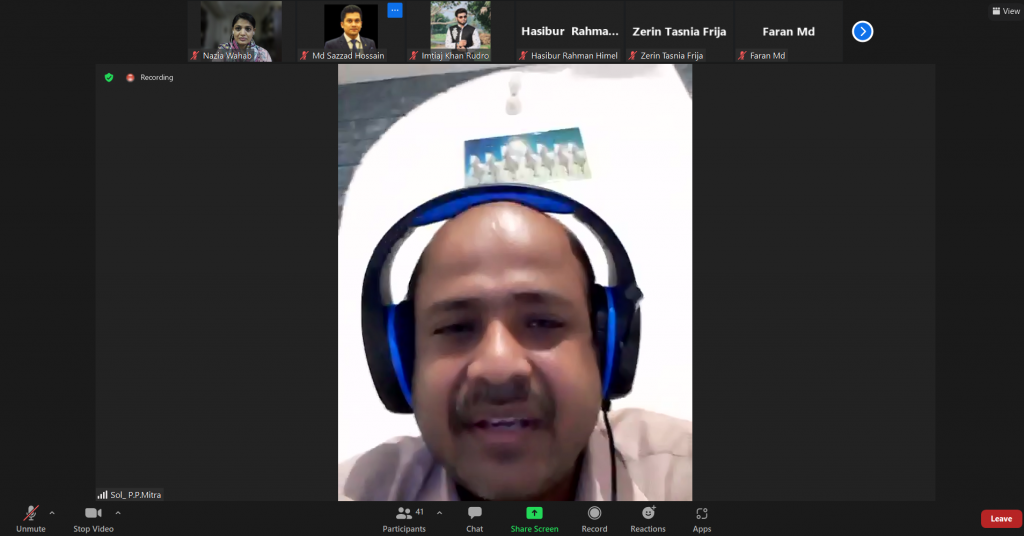 The Research Committee of Department of Law and Human Rights, University of Asia Pacific organized a webinar titled "Judicial Approaches to Vicarious Liabilities in Common wealth Countries: A Comparative Analysis" on 25 September, 2021 on Zoom platform. Md Sazzad Hossain, Lecturer, Department of Law and Human Rights, University of Asia Pacific resented his working paper at that said occasion. The seminar series is one the regular events of Department of L&HR, UAP. On that event, usually the faculties of L&HR, UAP present their current research paper in the presence of an expert and the audience to get the fruitful feedback.
Prof. Dr. Partha Pratim Mitra, School of Law at Galgotias University, Nodia, India presented as a key discussant to that auspicious occasion. Additionally, all the faculties and interested students of the Department of L&HR were also presented on that occasion.
At first, Md Sazzad Hossain presented his paper extravagantly. He discussed on vicarious liability, Employment Relationship and Control Test, Course of employment and Salmon test and Lister Test, Non-delegable duty of Care, comparison between UK, Canada and New-Zealand then Findings and Comments. Then, Prof. Dr. Partha Pratim Mitra provided his valuable comments and suggestions on his presentation. He highlighted some positive sides of the topic and deficient of the paper.
Thereafter, there was a question answer session. Audience directly put question to the presenter Md Sazzad Hossain and key discussant Prof. Dr. Partha Pratim Mitra. They answer to the question accordingly.
Finally, Dr. Chowdhury Ishrak Ahmed Siddiky, Barrister-at-Law, Associate Professor and Head of Department, Department of Law & Human Rights also provided his valuable comments on the paper and thanked all the participants. At the end of the session, anchor of the program Nazia Wahab, Assistant Professor thanked to all and concluded the program.